FEATURES THAT LEAD THE PACK
IVECO's Daily E6 Cab Chassis boasts features that put it way out in front of the pack, delivering low emission performance, safety, comfort and productivity. Add to that the flexibility to fit the body that suits your work application – and you're on a winner.
How flexible? Start with payloads spanning 2,300kg right up to 4,700kg*; braked towing capacity of 3,500kg and the option of seven different wheelbases ranging from 3,000mm to 5,100mm. It's what makes Daily E6 Cab Chassis your perfect business partner, ready for fitment of steel or aluminium trays, tippers, service units and Pantech bodies among many others.
*Payload will depend on the body fitted.
PEACE OF MIND
Peace of mind, for Daily E6 Van owners, comes courtesy of a standard comprehensive 3 year/200,000 kilometre warranty, with additional extended warranty options of up to 5 years/300,000 kilometres available at extra cost. The Daily E6 Van is also supported nationwide by a Dealer Network of 24 outlets including parts and service facilities.
With IVECO, you can also take control of your vehicle maintenance costs through a series of tailored service packages that maximise uptime and deliver the maintenance regime you want. And in the unlikely event of a break-down, IVECO Customer Care Centre is on call on 0800 367 483, and ready to connect you with your nearest IVECO Dealer.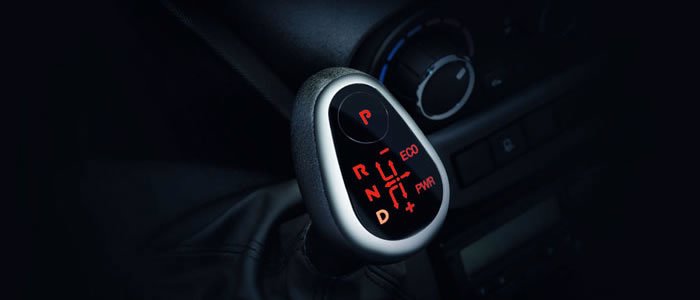 SHIFT OR AUTOMATIC, THE CHOICE IS YOURS
Manual or automatic? Daily E6 Cab Chassis offers drivers the choice of a conventional 6-speed synchromesh overdrive manual transmission or the Hi-Matic 8-speed full automatic.
The Hi-Matic gives the driver the flexibility to be used as a sequential transmission by selecting gears manually via its 'plus' and 'minus' positions. Hi-Matic also features Eco and Power mode functions. Selecting Eco allows gear change at lower rpms, in turn reducing fuel consumption and peak torque and softening the power curve. Power mode holds the vehicle in gear longer, giving access to maximum torque and power for crisper acceleration if required.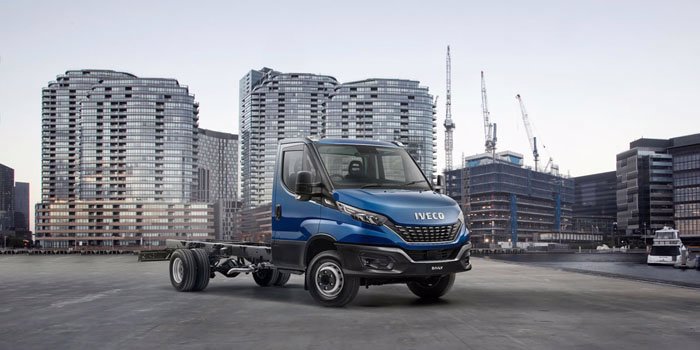 THE LIGHT TRUCK FOR EVERY APPLICATION
The Daily E6 range of wheelbase and GVM options means it's suitable for a wide range of business applications from delivery to trade vocations, or specialised work and recreational duties. For delivery work, the Daily E6 offers driver comfort, efficiency and payload flexibility. For trades, the Daily E6's generous payload capacities and wheelbase options provide an ideal base to build business productivity.
The Daily E6 Cab Chassis's inherent performance, fuel efficiency, safety and comfort also makes it an excellent platform for motorhomes, while the its engine torque, towing capacity, safety and stability make it the perfect fifth wheeler too.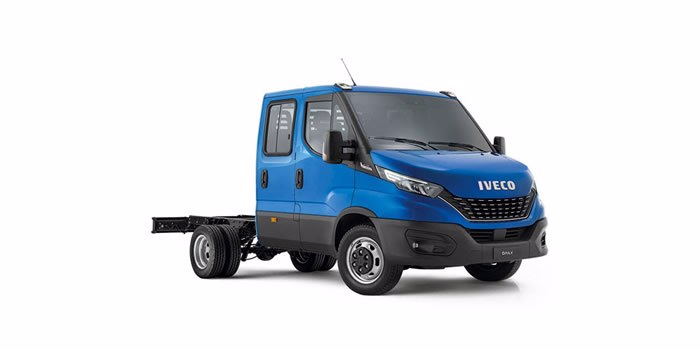 Operators who need additional seating to transport a full work crew can select from several Daily E6 Dual Cab Chassis models. These variants can comfortably transport the driver and up to five passengers while still providing generous capacity to carry equipment and materials.
GVMs for Daily E6 Dual Cab variants range from 4,495 kg to 7,000kg and offer payloads of over 4,300 kg depending on the body selected. There are also six wheelbase choices spanning from 3,450 mm to 5,100 mm providing versatility for a broad selection of bodies.
Daily E6 Dual Cab variants feature the same engine, transmission, safety features and other benefits as their single cab counterparts.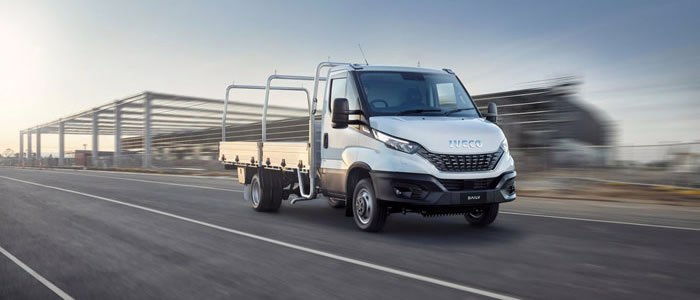 DRIVING A HEALTHIER BOTTOM LINE
More than ever, vehicle running costs are a major factor on your bottom line. The new range of Daily Euro 6 engines use less fuel than their predecessors while still delivering best in market oil change intervals of 50,000km*.
Cost savings don't stop there, with the Daily E6 Cab Chassis also offering fuel economy features like 'Eco' mode and 'Ecoswitch', and a smart alternator that's activated when the accelerator is released to recover kinetic energy. Other clever cost saving features include replaceable three-piece bumper sections and hard-wearing strips to protect bodywork against scrapes and bumps.
*Conditions apply
PACKED WITH OPTIONS
You're spoilt for choice with the Daily E6 Cab Chassis, with four optional upgrade packs available, each delivering exceptional value.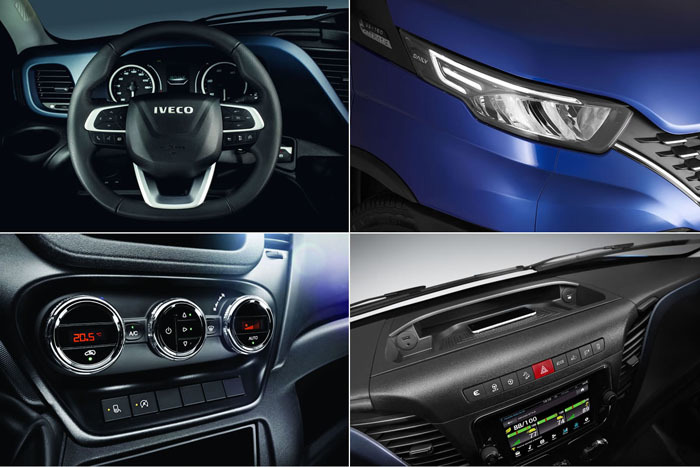 MORE CHOICE AND VALUE WITH PACK OPITONS
Depending on buyer requirements, prospective Daily E6 van owners can select from four optional upgrade packs: 'Hi-Safety Pack, 'Hi-Comfort Pack', 'Hi-Vision' and 'Hi-Efficiency Pack', allowing them to more closely tailor a specification package to best suit the application, while receiving more value by grouping options.
Hi-Safety Pack:
Active Cruise Control
Queue Assist (Automatic Transmission Only)
City Brake ( AEBS - Active Emergency Braking System)
Electric Park Brake
Hi-Comfort Pack:
Automatic controlled air-conditioning
Leather covered steering wheel
Open Storage with Inductive Charging
Heated & Suspended Driver and Passenger's seats with Lumbar support
Hi-Vision Pack:
LED Front Headlights
Automatic high beam control
Hi-Efficiency Pack:
Tyre Pressure Monitoring System
Run-lock funtion
DELIVERING FOR THE DRIVER
Daily E6 Cab Chassis doesn't sacrifice driver comfort for its impressive payload capacity. Even on the longest hauls you'll experience car-like driving comfort via high quality interior appointments, a high resolution TFT instrument cluster and the added option of IVECO's Hi-Connect multimedia and navigation system.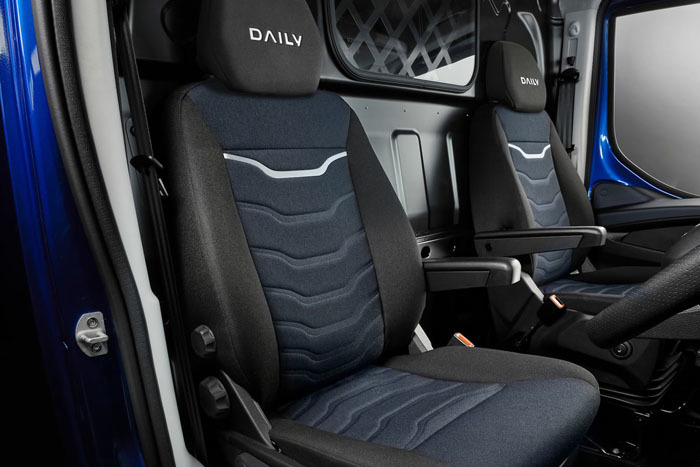 Features include:
High-resolution colour TFT instrument cluster featuring seven dedicated screen menus.
Optional 'Hi-Connect' multimedia and navigation system with both Apple CarPlay and Android Auto, plus GPS by Tom Tom and Bluetooth.
Soft-touch steering wheel with asymmetric shape for improved ergonomics.
Optional cordless inductive charging for mobile phones and other devices
Innovative storage solutions throughout the cabin for personal protective equipment and other items.
Heated and suspended fully adjustable driver's seat with multiple points of adjustment, lumbar support and armrest.
POWERFUL, FUEL EFFICIENT AND LOW EMISSION
IVECO delivers market-leading low emissions teamed with powerful performance with its Euro 6 engine range. Alongside more power and low emissions the Euro 6 engines are also more efficient, offering up to a 10% reduction in fuel use*.
To meet Euro6, Daily E6 employs SCR (Selective Catalytic Reduction) technology that used urea solutions such as AdBlue, a system that's been widely used in medium and heavy duty trucks for many years. AdBlue is injected into the hot exhaust stream and reacts with the harmful NOx (Nitrogen Oxidies) to form harmless nitrogen and water vapour and keep emissions in check. Daily E6 is equipped with a 20 litre (nominal) AdBlue tank capacity and it's estimated that the vehicle will consume three litres of AdBlue per 100 litres of diesel fuel depending on conditions, meaning the operator will only need to refill the AdBlue tank every seven or so tanks of diesel.
*Based on internal IVECO testing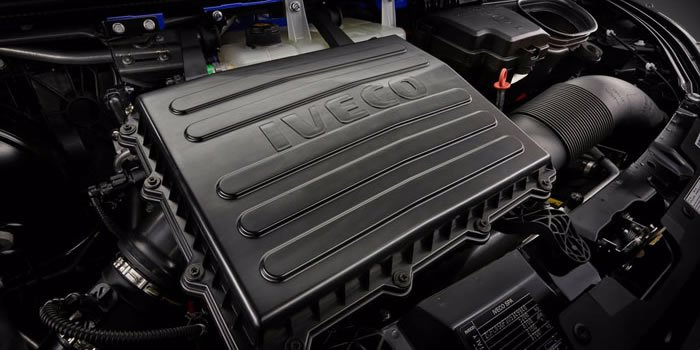 Engine options include:
2.3 litre direct injection intercooled diesel with electronically controlled Variable Geometry Turbine (e-VGT) producing 100 kW/350 Nm.
3.0 litre direct injection intercooled diesel with e-VGT producing 132 kW/430 Nm.
3.0 litre variant - direct injection intercooled diesel with e-VGT producing 155 kW/470 Nm.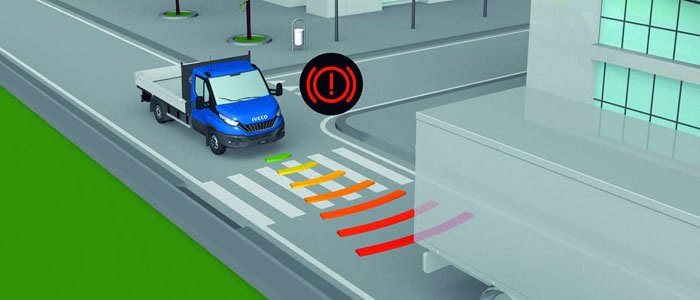 NEXT LEVEL ACTIVE SAFETY
IVECO puts driver safety at a premium, and the Daily E6 Cab Chassis boasts a set of impressive safety features as standard including front and rear disc brakes, Electronic Stability Program, four airbags and the availability of a Lane Departure Warning System.
Then IVECO takes it to the next level with an Advanced Emergency Braking System, Adaptive Cruise Control, Crosswind Assist and an enhanced and impressive ESP9 suite of stability control technologies.
Safety features include:
Advanced Emergency Braking System (AEBS).
Adaptive Cruise Control (ACC).
Crosswind Assist.
ESP9 suite of stability control technologies – includes Anti-Lock Brakes, Electronic Brake-force Distribution, Electronic Stability Program, Anti-Slip Regulator, Drag Torque Control, Hill Hold Control, Enhanced Under-Steering Control, Adaptive Load Control, Trailer Sway Mitigation, Hydraulic Rear-wheel Boost, Hydraulic Fading Compensation, Roll Movement Intervention and Roll Over Mitigation.
Optional active safety features including Lane Departure Warning System (LDWS), full LED headlamps, Hill Descent Control, City Brake, Queue Assist and Traction Plus available range-wide as stand-alone options or as part of an option pack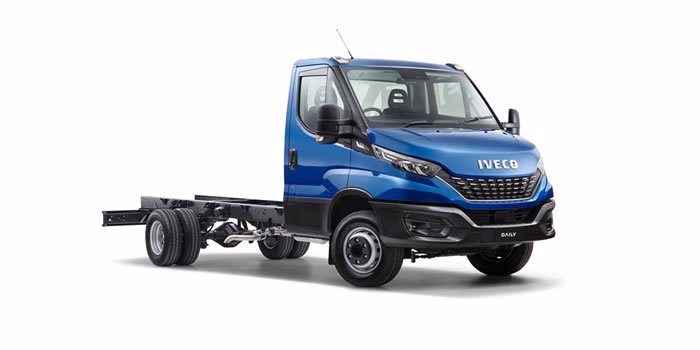 VERSATILE CLASS AND COMFORT
Feels and drives like a car, but built to do serious business. With seating for up to three adults and a strong C-section chassis, the Daily E6 Single Cab Chassis can be fitted with a range of bodies to suit your application. And while it's ready for the tough stuff, inside you'll find a full suite of advanced safety equipment and driver comfort appointments that make for a relaxed, hassle-free drive.
Features include:
50C and 70C models
GVMs from 5,200kg up to 7,200kg
Multiple wheelbase options
Advanced safety features including Advanced Emergency Braking System and Adaptive Cruise Control
Optional Hi-Connect multimedia and navigation system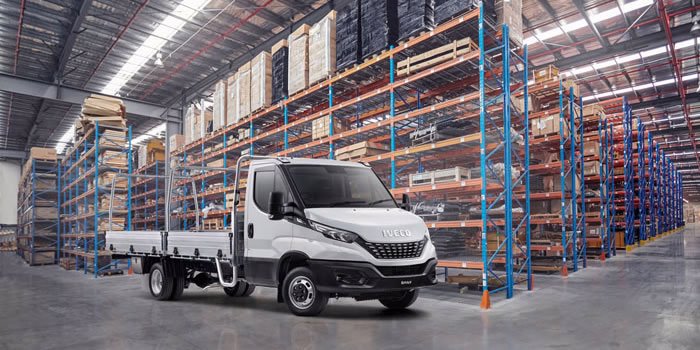 CLEVER FUNCTIONS FOR EFFICIENT WORKLIFE
IVECO makes your work a little easier with clever functions that will boost business productivity, help the driver perform more efficiently and add to that all important bottom line.
The Daily E6 Cab Chassis offers the best volume and GVM performance in market, alongside an expansion module that allows body-builders and equipment installers to outfit custom equipment; optional rear differential lock and Electronically Controlled Air Suspension; a 'run lock' that allows the driver to exit with keys for drop-offs while the engine is running and a dash mounted electronic parking brake switch.
Discover More
Please provide your details below to find out more. One of our specialists will be in contact with you shortly